We're in awe of #TeamMLE!!
We're in awe of #TeamMLE!! What an outstanding weekend! It was filled with top-five finishes, showcasing the dedication and talent of our amazing clients. We're so proud that they are part of #TeamMLE!! 
A special congratulations goes to Kim Severson of Severson Eventing for her impressive win with Arden Juju, owned by Anita Antenucci, in Open Intermediate at The Maryland Horse Trials.  We also applaud Allison Springer of Allison Springer Eventing for her victory with Cooley High Flyer, owned by Francesca Broggini in Open Training-A at The Maryland Horse Trials. The hard work and teamwork paid off splendidly!
Not to be forgotten,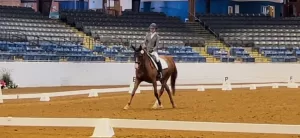 Martin Douzant of The Frame Sport Horses secured wins with Frame Severine in the 0.90m Jumpers at the Cavalier Classic, demonstrating exceptional talent and finesse. And let's give a big round of applause to MLE Intern Hanna Keegan for her stellar wins with DeLiza at Dressage at Lexington. It is always fun to watch MLE staff in the show ring, and watching Hanna never disappoints! 
Each victory represents countless hours of training, teamwork, and unyielding spirit. And we love to see what can be achieved with passion and perseverance! 
7/15-16: The Maryland Horse Trials (Adamstown, MD)
Daniel Clasing of Clasing Equestrian with …

Beryl: 2nd in Open Novice-C

Butts Arthur (owned by Jennifer Larkin): 8th in Open Intermediate

Mr. Max: 6th in Open Novice-A

PHE Drama Queen (owned by Kyliegh Christians): 2nd in Open Beginner Novice-B

Kaitlin Clasing with Clasing Equestrian with …

Joe DeSantis of The Frame Sport Horses with …

Beall Spring Bvlgari (for sale!): 10th in Open Novice-A

Sophia Tharseo (owned by Julia McHugh): 3rd in Open Novice-C

Waterline (for sale!): 3rd in Open Novice-B

Kim Severson of Kim Severson Eventing with …

Allison Springer of Allison Springer Eventing with …

Business Ben (owned by Business Ben Syndicate): 4th in Open Intermediate 

Cooley High Flyer (owned by Francesca Broggini): 1st in Open Training-A

Mill Run Millicent (owned by Natalie Epstein): 7th in 4-year-old Young Event Horse
7/14-16: Dressage at Lexington (Lexington, VA)
7/12-16: Cavalier Classic @ HITS Culpeper (Culpeper, VA)
📸 MLE Intern Hanna and DeLiza