What a stellar weekend for #TeamMLE!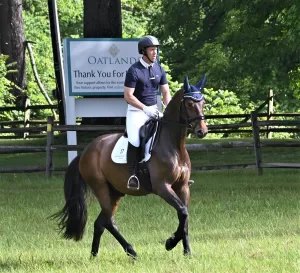 What a stellar weekend for #TeamMLE! We love seeing all of the top finishes!! And a special congratulations to Martin Douzant of The Frame Sport Horses. Martin is back in the saddle and competing! We are so excited to celebrate his extraordinary achievement, conquering everything that life has thrown at him and emerging victorious! This is a true testament to his indomitable spirit.
Our #TeamMLE riders are a true inspirations! They show us that with determination and a supportive team, nothing can hold you back.  Let's raise a toast to the unwavering strength it takes to continue to push forward in this industry! We are so thankful to be part of all of our riders' journeys, and love to be there for every milestone, every joy, and all of the endless possibilities. We're cheering you on!!
📸 Martin and BSF Frame Charleston
6/24-25: Loudoun Hunt Pony Club Horse Trials (Leesburg, VA)
Daniel Clasing of Clasing Equestrian with … 

Beryl: 2

nd

 in Open Novice-A 

Mr. Max: 3

rd

 in Open Novice-A

Kaitlin Clasing of Clasing Equestrian with … 

Maberlinus M (owned by Jenni Bickerstaff): 1

st

 in Preliminary/Training

Suze Cornue of Destination Eventing with Aiken on Tap: 6

th

 in Open Novice-A

Joe DeSantis of The Frame Sport Horses with …

Beall Spring Bvlgari (for sale!): 7

th

 in Open Beginner Novice

Sophia Tharseo (owned by Julia McHugh): 1

st

 in Open Novice-B

Upper Crown (for sale!): 6

th

 in Open Novice-B

Martin Douzant of The Frame Sport Horses with …

Erin Murphy of Morningside Eventing with …

Cooley Cadence (owned by Cooley Cadence Syndicate): 1

st

 in Open Preliminary

Jackson Maine (owned by Colleen McCarthy): 7

th

 in Open Preliminary

Table Talk (owned by Leslie Pitcher): 9

th

 in Open Preliminary 

Allison Springer of Allison Springer Eventing with … 

Business Ben (owned by the Business Ben Syndicate): 3

rd

 in Open Preliminary

Cooley High Flyer 

(owned by Francesca Broggini): 3

rd

 in Open Training-B
6/24: Fair Hill Starter Horse Trials (Elkton, MD)